BizX wants to make sure you have an exceptional member experience every time you buy or sell to another member in our network.
Sometimes, things don't work out as expected and when that happens, you have an easy way to let us know. Simply locate the member or their offer on the BizX Marketplace and on the left side of the screen, there's a button titled Flag an issue.
When you click on that button, a new screen opens where you can let us know exactly what the problem is. We want to hear about it if you have problems.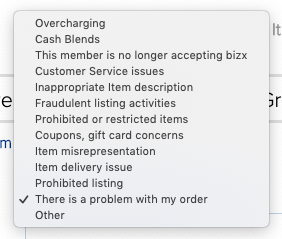 After you've given us the details about the issue you are flagging, our team will work to get to the bottom of it, and we'll update you along the way.
This is another way BizX is at work to ensure buyer protections. We hope you find this to be a valuable tool!